Thank you all for bearing along with yesterday's Mommy Brag Day. Lots of interesting questions in the comments, too. All three of our kids are raised bilingually. We read to them and talk to them in both languages, though English is our at-home language. I had very strong opinions about having all three kids at home, naturally, but we had problems (with the midwife, not the labor) that resulted in Nicky being born in the hospital. I'm a strong proponent of at-home, natural childbirth, but I keep my opinions to myself unless asked :-). As for having another, well, Rowen really demands an incredible amount of energy so we're going to be content with the three we have. Probably. Almost certainly. Ha ha. The baby pictures from top to bottom are Rowen, Max, and Nick. On the subject of terribly cute baby pics, here is an old timer of my "baby" brother Rich, myself, and my cousin Katie stealing a ride on Uncle Paul's motorcycle.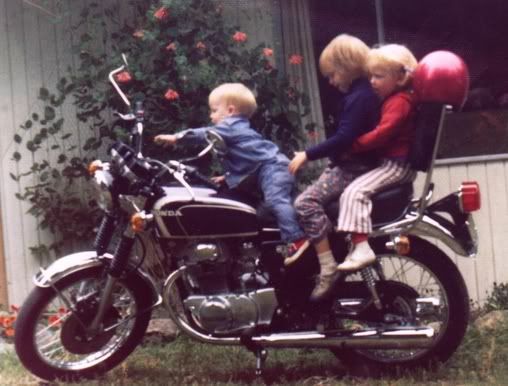 Another big thank you goes to the truly wonderful and generous people who've responded to my plight of being unable to acquire freebies that require a SASE! Sara, that stamp will keep me out of trouble next time! Cathy, not only are the other LHN freebies you sent wonderful, but that skein of WDW is just begging me to use it right now! And Cathy, again, thanks for sending the Two Sheep freebie! Karen, that Thread Heaven is going to save me so much frustration and the LHN freebie you sent is perfect for an upcoming RR with a house theme! Everyone has been so fast and so generous with responses. I really, really appreciate it. I'm a lucky ducky.
And on the subject of thanks, in a tangential sense, I've been made aware recently of how very much I have to be thankful for. You know, it's sad, but in the day-to-day rush it's so easy to overlook how great life is. I've done odds & ends for charity and volunteer work, but I've been disorganized about it (like so many other things in my life!). So I was especially thrilled to see
25 Things for Charity
in Dianne's
blog
the other day. I immediately signed up. The goal is to do/donate/arrange/etc. 25 "things" for charity in a 12 month period. The things can be whatever you want, for whatever charities you choose. The 12 month period can begin now, last month, after the holidays - whatever suits you. And the total of 25 things can be adjusted to suit your own reality. Maybe 12 fits your life better - that's great! Do 12! Or maybe you're a real Energizer bunny and you can whip out 50. That's great too! As for me, I am going to use this as an opportunity to sort out the various charities I donate to and set up a decent rotation. I am also adding new ones, and it may give me the courage to try other crafts than cross stitching. I'm not too bad at scrap booking/card making and I would love to learn knitting and patchworking. I'll have periodic updates in here about my progress and endeavors. Oh, I'm starting my 12 month period as of Oct. 1st to include a few things I did at the beginning of the month. I don't know if I'll reach 25 but I'll have fun trying.
In short, why don't you also
take a look
at this great initiative and see if you might like to join in. It's a fun group of people and a great chance to meet some other crafters online.
I hope this finds everyone happy & well.