Recently I made this big promise to myself that I was cutting back on outside stitching obligations so I would have more time to stitch for the kids, charity, and our home. And now, despite my best intentions, listen to this:
* My MA exchange group has decided to do a Christmas exchange after all, with a mailing deadline of 5 December!
* I've joined two SALs in my Stitching Smalls group for January!
* And I have an 18-month massive RR beginning around December!
I just have to laugh at myself.
Right now I'm working on my Aunt's Christmas gift. I do still have two (?) gifts to stitch and a few to finish,
ha ha ha
. Or since it's Christmas related,
ho ho ho
!
I have received the supplies I need for my SALs (my
Stitching Bits and Bobs
order arrived today!) and the stitching requirements aren't excessive.
I have received the linen and a special pattern for the RR (pictured below), but I really need to go through my stash for other suitable patterns. I need to come up with 8 or 9 houses/building scenes in total.
And somewhere before December 5th, I also need to get my Sinterklaas charity packets ready (drawstring bags filled with small gifts for nursing home residents) ... hmmm. Cloning isn't an option - the thought of two of me is just too terrifying to contemplate.
Anyway, while I reflect on what an outstanding job I have done cutting back on my outside obligations, you can oogle my SBB stash. It's laid out on my infamous lilac ice fabric. Zoanna, thanks a lot for the charity drawstring bag suggestion - I plan to make more charity packages (in the form of drawstring bags) for the local nursing home residents.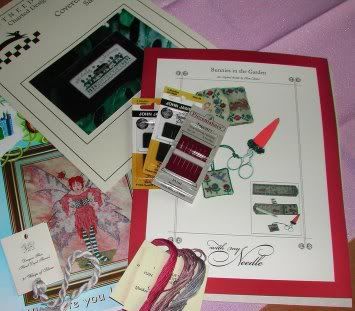 (That fairie with an attitude is intended for Rowen, my darling daughter who will someday rule the world.)