Today just rocks. It's amazing. Okay, I did
not
study. Fifty lashes. But ... I
did
finish this!
Our anniversary is Saturday, though we'll celebrate Friday. All I have to do is frame it. Yippee!
And then Ash came with her boys. It is always great fun to get together. I'm amazed at how well our combined five kids play together - even on a rainy, autumn day! While the kids played upstairs, Ash taught me the basics of knitting downstairs, and look what I made!
Eventually this will be a scarf for Max. A huge, huge thanks to Ash for getting me started - I was convinced I was unteachable. And another huge thanks to Sara, who outfitted me with this yarn, the needles, and a beginners book. I couldn't do it without you!!
And while Ash was here, the mailman came with my SBEBB smalls exchange from
Rava
. Wow, this was really a treat! Rava made me the LHN Watermelon design and finished it as a pinkeep. Did you know how much I love crows? Niek said it looked like something I'd stitch for myself. It's displayed on my needlework chest for everyone to admire. Rava, you did a FABULOUS job stitching and finishing this! And as if that weren't fabulous enough, she also sent the Lucy Fairchild chart from the LHN Dear Diary series with four skeins of Vikki Clayton silks. And she sent a beautiful postcard of Perth and two small (but functional!) boomerangs! Wow!!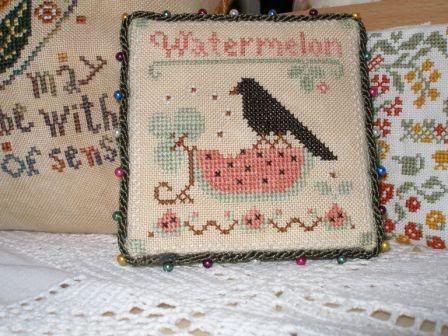 And tonight (when I should've been studying), I finished up this lovely little stag from the Prairie Schooler Winter Wind leaflet! Wowsee!!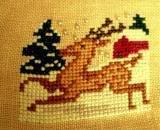 What a day, what a day! And now, it's time to give Rigby his last walk before bed. My eyelids feel like they weigh about 15 pounds each....