I've been trying two days to post this - Internet woes. I hope the wait was worth it! (Regarding the pictures of Nicky - he spilled his fruit juice all over himself; it's not a bloody nose!)
** Edited to add: The pictures are clickable even though they're from Photobucket. Blogger hasn't allowed me to add pictures for some time now, regardless of size. **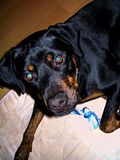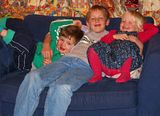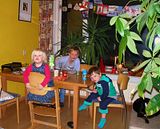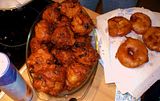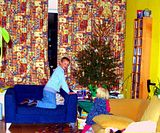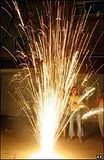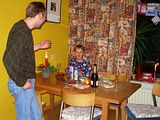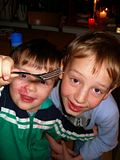 I hope everyone's enjoying a wonderful beginning of the New Year. We celebrated as we "always" do - New Year's Eve is one of the few holidays for which we have a very definate tradition, and we all enjoy it very much.
Niek started cooking in the early afternoon. He made oliebollen, apelflappen, and battered banana balls - all of which are traditional Dutch deep-fried bread-like things. You could compare them to doughnuts, but it's not an accurate comparison. Anyway, he makes them all totally from scratch and it's such a treat, even if one (aka me) doesn't normally eat deep-fried anything. LOL! He also makes an amazing salmon salad, which is my particular favorite. We have a special dinner (grilled prawns this year!), which is usually hard to make the kids eat because they only have eyes for the sweets. Each year Niek also adds a few new little tastes and nibbles that change the following year. And of course, a bottle of champagne at midnight is required!
It's also traditional to set off fireworks at midnight. Max was utterly terrified of them for the longest time, so we always buy one of the smallest assortments. This year it poured rain, but Niek got out there in his sailing clothes and put on a respectable pyrotechnics display - he's such a hero! The usual wandering in and out of neighbors' houses was curtailed by the rain - too bad, I really like that. Nicky woke up this year for the first time and came down for about an hour. He loved it! At one point he came over to me with his brown eyes so wide and innocent, looking utterly angelic, and I expected to hear something pricelessly sweet ... when he said, "Mommy, thank you so much for not bringing Rowen downstairs, too." Kids!! LOL! Max got up at 11:30 and stayed up for two hours with us, but he was more asleep than awake in the beginning!
I have been stitching, but when the stitching bug bit me, it seems to have caused a weird infection - I want to start and do everything at once! I'm working on our ongoing neighborhood round robin as my main project, but I'm also trying to simultaneously do two SOLAK squares, two Hurricane Katrina squares, a birthday gift, my Valentine exchange, and my birthday recipient for the year. Even if I could stitch with both hands and both feet, I still wouldn't be able to keep up with myself!
Ash
and the boys visited today and we had a great time. It's amazing how much fun our kids have together, and it provides a true mini-hoiday for wearied mothers. While we were chatting away, Ash managed to whip together the most amazing sweater for Joe. It was like magic! And she brought a platter of the most amazing brownies you can possibly imagine - I feel like hoarding them and growling
MINE!
every time someone comes close!
Top of the New Year to you!!