I have to show off the beautiful cards I've received this holiday season. We actually ran out of room to display them all in the windows, but here are nearly all of them. Lots from stitching friends the world over – thank you!!!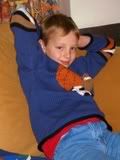 As for the germy part of this posting, it seems like everyone in the family other than yours truly has succumbed to some middle-of-the-night mystery virus. Max woke up with a pretty high fever, Rowen with a milder one, Niek with a general feeling of being unwell, and even tough little Nicky says he doesn't feel well. As I type this, Max and Rowen are sleeping upstairs, hopefully getting better. Niek insisted on going to work, and trying to get Nicky to lay down during daylight hours is akin to trying to kiss your own elbow. Ever tried? It's not possible – I know from experience. But that's another story.
The list of stitching goodies under the tree is limited, by design. My SIL and
baby
brother (who towers over me) sent me a unique chart-a-day cross stitch calendar with some fun designs that I'll enjoy, my father and new step-mother sent me a nice assortment of DMC and some 14 count Aida that I think I'll use for a surprise gift, and my great Aunt Hattie sent me the Camden Harbor kit that I'd posted on my wish list. I'm really itching to start that one, but there are a few projects with deadlines that must be tended to first. And here's a tiny finish.
I was just looking over my blog entry on this day last year. I can only laugh at the fact that I didn't do a
single
thing on my short list for 2006 projects. But that's not to say I didn't do a fair amount of stitching – as far as I can figure, I finished about 52 projects this year. Many of these were small projects that broadened my finishing skills (if my humble attempts can be called skill – that's a bit of a stretch), which was something I really did want to get into this year. From only knowing how to do basic framing, I've slowly worked my way up to stitcher's pockets, needle books, and assorted ornament finishes. Even bought a new sewing machine to help with the projects that aren't entirely hand done. I've also mastered the dreaded French knots and can do a decent job with beading. Hooray! Best of all, though, has been continued contact with my earliest online stitching friends, a deepening of friendships, and making new friends. It's hard to remember how lonely my stitching hobby used to be, back when I had no one to share it with. I've gained so much from you –
thank you so very much
for your support, ideas, friendship, and laughter.
Who knows what 2007 may bring us? The older I get, the more futile list-making seems to be. Life really is what happens when we're busy making other plans. So no lists this year, not even a short one! I will give a sneak peek at the two projects I started during the past day or two, though.
May your days be merry and bright!
(Sorry none of the pictures are clickable - no matter how small I reduced them, Blogger refused to accept even one. Bah humbug!)