Yesterday we celebrated Sinterklaas a.k.a.
pakjesavond
- the evening that Sinterklaas and/or his helpers deliver the kids' gifts, usually with a great deal of noise and excitement, but seldom ever being seen. (Our neighbors are just wonderful at this!) The kids had a lot of fun, and here are a few pictures of everyone except Gilbert and Nachtegaal enjoying their gifts (those two got gifts, too, but I forgot to take pictures of them.)(These first pictures are clickable.)
And now that Sinterklaas is officially over, I can begin putting up Christmas decorations. I'm usually not very good at this, but my Mom really motivated me this year. I made a bunch of miniature stockings to hang around the fireplace, and hung the handmade stockings from Sara above them. (There are also stockings for Niek and I that she made, but I didn't hang them.) So now I can think of
'Twas the Night Before Christmas
every time I look at the fireplace. LOL! (These pics aren't clickable - Blogger's not in the mood!)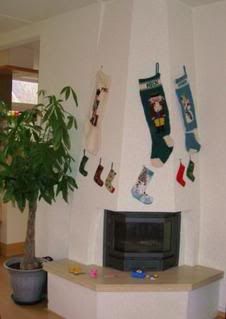 I also hung the few cards that have arrived - thanks
Anne
! - and some purchased and handmade ornaments (thanks again, Sara!) in the front window. Also hanging in the front window is my SBEBB exchange ornament from
Judith
. Thanks, Judi, it's beautiful and exactly to my taste. What floss did you use??
Finally, a funny little picture of the "surprises" I made for the kids. They look a little limp in the picture because they were filled with candy for last night's celebration, but I'll stuff them with cotton and stitch their little 'stuffing holes' shut (Rowen's -the pink bunny - is already done as she insisted on sleeping with it!).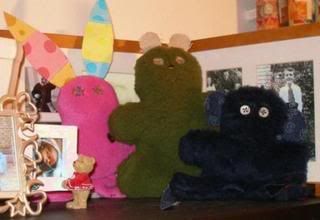 The holidays can be stressful and even depressing for a lot of us. Let's not forget that hugs and smiles are free. ;>