With all the top-secret stitching going on - birthdays, exchanges, Christmas, etc. - it's great to finally be able to post a couple of pictures of projects that I finished at the beginning of the month.
First off is Su's belated birthday gift. I'm going for the "better late than never" approach, and Su has a good sense of humor about it all. I know Su likes sheep, so I found her a great handmade sheepie pot holder (that she tells me Mark has already stolen LOL) and I made her a funny little primitive sheep (freebie templates available
here
) stuffed with lavender. I included some thread keepers and patterns that were on her wishlist as well. Instead of saying happy birthday again, I'm going to say "Get well soon, Su!" I hope you get your voice back soon!
And Dianne's gift, mailed the same day, also arrived - before her birthday! Wow, the postal service actually working in my favor. That's a Big Event! When I saw
this pindoll alphabet
by Meridel Abrams, I knew that was what I had to make for Dianne. It just seemed so right for her. I've stitched it on 32 ct. Sterling Silver linen from Silkweaver using VC silks. The design on the back is partly from an issue of
au fil des aigille
and party from my own imagination. I included some stitchy goodies - finishing fabrics, stitching fabric, and a British xs magazine just for a change of pace. Happy early birthday, Dianne!!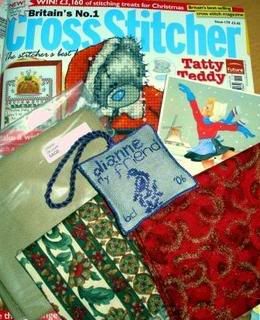 I'm plugging right along on my Christmas project for an unnamed person. Out of the three pages, I'm nearly halfway through page two. It's a simple design and is coming together quickly. A blessing, given my time shortage. Tonight, Max and I will both accompany Rigby to doggie school and by the time I return home, I'll be ready for bed.
Wishing you all the very best today!!