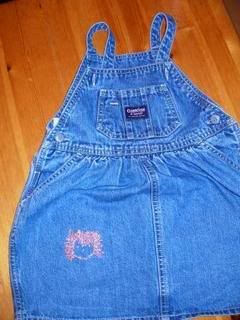 Today I tried my first waste canvas stitching project. We were scheduled to go to my MILs birthday celebration at 5 p.m. and I thought how cute it would be if I finally stitched that cute doll pattern on the denim dress my mom bought Rowen. I've meant to do this for an embarassingly long time. So I sat down with the pattern, the dress, and Rowen's choice of floss (DMC color variations 4110), and started stitching. Stitching through denim hurts! And this kind of stitching is even slower than my usual snail's pace. But I finished about half an hour before we had to leave ... only to discover that plucking the waste canvas out of the design takes nearly as long as the stitching! Okay, a slight exaggeration, but it is time consuming, and I had a hard time plucking the canvas threads without pulling the actual stitching. I think Rowen will like it, though. I'll have to think seriously before trying this again, though.
The birthday party was wonderful. My mother in law is a lovely woman who enjoys seeing people have fun - but she's not a lady who's tied to her kitchen. So she came up with the brilliant plan of holding the party at a local restaurant that had room enough for the kids to run around a bit and had a menu sure to please even the picky eaters among us (that would be me with my meat-free thing). Everyone had fun, except Rigby. He had to stay home and the neighbors met us at the door when we came home to kindly inform us that our dog had not stopped whining and barking for the entire 3+ hours we were gone. Oops.
While at dinner, Max's tooth fell out. Last time Max lost a tooth, the tooth fairy actually forgot to come. There, now you all know what a terrible mom I am sometimes. Tonight we were extra careful to make sure that the tooth fairy left him his favorite: two fifty cent pieces. Euro fifty cent pieces are large, heavy coins that look like gold to an 8 year old. He loves them. And I have one more tooth to add to my macabre little collection.
Finally, Judith Romijn started the truly wonderful idea of
paying it forward
here on our blogs. The way it works is, the first five people who say they want to participate will receive a handmade gift from me (not before Christmas, I fear!). In return, they will post the same action on their blogs and pledge gifts
(the gifts obviously don't have to be cross stitch, if you aren't a cross stitcher - for example, I know of a very talented photographer out there who could send photos she's taken herself),
to the first five to respond, and so on. I saw it too late on Judith's blog, but managed to sign up when I saw it on
Carol's blog
. If you are interested, please email me with your snail-mail address where I can send the giftie. I just love this idea, and I'm quite excited to be part of it. I loved the movie and secretly go around trying to do this IRL with mixed success.
Oh, before I forget, there's some more information about Sinterklaas available
here
. It's a bit of a hodge-podge, but it gives the idea. I'll be glad to take pictures, Cory. We don't set out gifts for the kids every night, like some of Max's classmates do - it's just too expensive with three kids, especially as we do the full Santa treatment, too. We probably set the shoes out 4 times or so for a very humble treat. And then on 'pakjesavond' on December 5th, the kids all get some small treats and one slightly bigger gift. Personally, I like the stockings much better, but it's important that the kids experience both sides of their culture.