Both
Annemarie
and
Margaret
have tagged me, so really I must respond. But my responses require a little bit in the way of introduction.
I'm a procrastinator. I've tried to conceal this, but those who know me best know that it is woefully true. I don't mean to be. I've meant to do something about it. But ... well ... other stuff keeps coming up.
I can't seem to do anything in moderation. You'll notice that my responses to Margaret's book tag are, as often as not, series instead of single books. And for Annemarie's seven-songs tag, I had to supply seven artists. And even that was hard to do - I wanted to supply seven decades of music, or seven genres of musical style ... seven single songs was simply impossible.
So here are a few bookish tidbits from me to you, and seven musical talents who have enriched my life. But there are more and it feels incomplete to supply only part of the picture. But if I were to respond in full, it would require even more thought and time and ... procrastination. So here is a partial picture that's only a little bit late in coming.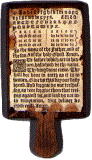 1)One book that changed your life:
The Little Prince by Antoine de Saint- Exupery
2) One book that you'd read more than once:
I have read most of my books more than once. I love re-reading Edith Wharton.
3) One book you'd want on a deserted island:
Something huge and complex, educational and entertaining … Any suggestions??
4) One
book
series
that made you laugh:
A Series of Unfortunate Events by Lemony Snicket
5) One
book
series
that made you cry:
The Ender series by Orson Scott Card
6) One book you wish you'd written:
Skinny Legs And All by Tom Robbins
7) One book you wish had never been written:
It is tempting to cite a few books that have been misused … but it's the people who've misused the books, not the books themselves that are wrong.
8) One book you're currently reading:
Gulliver's Travels by Jonathan Swift
9)
One
Two
books you've been meaning to read:
Oh my … there are many. The Soul's Code by James Hillman and of course The Foundations of Chinese Medicine by Maciocia (my course book!)
10) Tag five people:
I would be very interested to hear from
Ash
,
Cathy
,
Carol
,
Joanna
, and
Karen
but I'm not officially tagging anyone.
Seven
songs
artists
I'm listening to
at the moment
much of the time
:
Madeleine Peyroux
KD Lang
Ilse de Lange
Anouk
Red Hot Chili Peppers
Katie Melua
Ella Fitzgerald