I feel like I'm in one of those dreams, where you're running as fast as you can but you don't get any closer to (or further from) the reason for running. The worst thing is, I can't for the life of me say
what
is taking up all my time. The kids have been ill with this and that for about 3 weeks now. Nicky was up until 1 am this morning, for example. I know that being tired makes everything else disorganized, but it's not like you have much choice when the kiddies keep you up.
What I am doing is slowly making progress on "Hearts and Flowers" (pictured in an earlier post). I'm using my own color scheme and made a mistake with one color which now needs to be picked out. Fortunately I didn't get too far before I realized it just didn't look that good stitched.
I've organized all my charts, reacquainting myself with a few I hadn't looked at in ahwile and enjoying the new ones. Annemarie gave me three when she came over, I've traded with BeckySC, and Dianne has sent me some amazing PS. Joke also introduced me to the beauty and complexity of
Jan Houtman
designs, and I am going to (gulp) undertake "Patchwork Sampler" in 2006. Thank you all for your wonderful generosity! I love them all!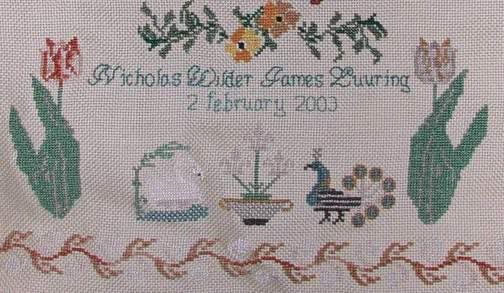 I've promised myself that in 2006 I will do more stitching for "us" and less as gifts. There are some really great things I've been holding on to for the kids - an amazing one-of-a-kind sea dragon I bought from a student/artist, "Heaven and Hell" by
der Feine Faden
for the nursery, "
The New World Sampler
" by PS for our entry hall. And I'm going to try a big project for a friend who is close to my heart but far from my home (can't say who, it's a reader!) for which I've been collecting some incredible
Shepherd's Bush
charts. I'm giving myself the whole year for that one - it'll be a Christmas gift for 2006. I'm also going to ask my ever-patient DH to please give me the 4 parts of Martina Weber's "Celtic Quilt Mystery", which I am going to do for our daughter, also incorporating a couple of
Kathy Barrick Dieter's
designs that coordinate well.
Speaking of making quilts for my 1 1/2 year old daughter, does anyone else remember Hope Chests? Gosh I wanted one worse than anything when I was 12 or so. My best friend Kelli had one, and actually had linens and silver ware and such in it. I'm a total goof, I know that the time for things like that has long passed, but I have this foolish and irresistable desire to create one for Rowen. No doubt she'll grow up thinking it's corny and embarassing ... but knowing me, I will go right ahead and do it, one special item at a time over the years. Being a rather "old" mother, I'm sometimes uncomfortably aware of the fact that I might not be on the right side of the grass by the time she has her own family and it's comforting to think of something from me lingering on. (No, I am not morbid!)
The sun is trying to shine today, with very limited success. I await news that my mother and her sisters have returned safely to Maine after visiting my brother, sister-in-law, and incredible nephew in Arizona. My dad and Mary are touring the last of the agricultural fairs of the season and I wish I were with them. My father and Gaby are making a tour of the Oregon coast, something I want to do with Niek someday. I am washing toys to send to the very practical and personal initiative spearheaded by
Zoanna
. Hopefully I will get them out in Saturday's mail, Zoanna! The boys are playing and Rowen is sleeping the sleep of the just.
I hope this finds you all feeling happy and healthy.
Today's picture is a detail from Nicky's birth sampler, a project from which I learned
a lot
!