In the process of updating my sidebar links, I've been exploring the blogs of other Dutch-based stitchers ... and checking out their sidebars ... and just kind of goofing off to tell the truth. But my wanderings brought me
here
where you will find two very lovely
free
samplers! Enjoy! I know I have got to get serious about going on the wagon (and staying there!). I actually did 'hide' my credit card some time ago but I still have my PayPal account. Oh dear. And
Stitching Bits and Bobs
has just run one sale after another. And of course I just had to get a few things that I really wanted while they were on sale. You know how it goes...
I called the nursing home today to arrange a time to bring the Santa Sacks. Here, gifts are given on December 5th for Sinterklaas and that's just around the corner. No one had ever gotten back to me, so I took the lead. The coordinator was really ditzy, I have to say. It's disappointing to try to do something special for people who really could use that bit of extra attention - but not receive any tips or support from the people who're right there. Does anyone have any suggestions for elderly gentlemen? I have puzzle books and warm socks, chocolates and mints. But the gentlemen's 'extra' gift has me stumped.
My son, Max, turned in his shoebox for
Operation Shoebox
. I am very proud of him. He spent his own allowance money on it and made the selections himself. The shoeboxes are, I believe, headed for Indonesia.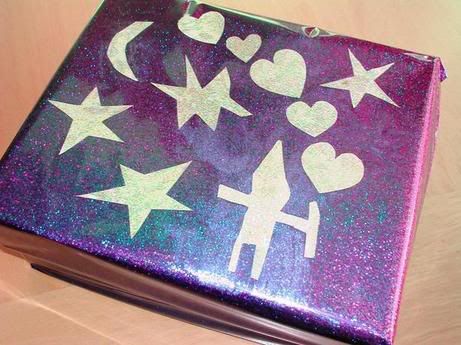 We are gearing up for our
Sinterklaas
celebration, though we are keeping it fairly low-key this year. Niek will have to dash out and pick up a few last items this weekend for the grand finale on Monday evening. That is "pakjesavond" and the kids will sing and get more & more excited until suddenly, somehow, Sinterklaas and his helpers, the Zwarte Pieten, sneak the gifts into the house with lots of noise and tossing about of candy and tiny cookies. (Note to self: wash floors after work on Monday!)
Then it will be Christmas. I love Christmas. It's a bittersweet holiday for us now - Max spends half the holiday with his biological father and this year we drew the short straw. Max will leave after breakfast on the 25th and not return until the 27th. I'm so dreading his empty place at the table. We will do our big family celebration on the the 24th and I will do my best to stay cheery for our other children for the rest of Christmas weekend. Niek's parents and sister will drop by for lunch on the 26th, which will be welcome. I'll be missing my own family (that includes you, Sara, if you're reading!). Maybe we'll get a white Christmas this year. That would be nice.
Hopefully this finds everyone well - happy and healthy and in the company of those you love.