I'm not much a one for doing happy dances, but I have to admit that I am just so darn glad to have Max's pirate set done. He'll love it, but for some reason, it was worse than pulling teeth to get these done. The sailing ship is a freebie from
Stitch Alley
(with my modifications) stitched on 36 ct Vintage Periwinkle from Lakeside Linens (this color is much lovelier IRL) using limited editions of Stranded by the Sea fibers. The skull & crossbones is my own design on 18 ct black Davosa (I had fogotten how annoying the ravel-factor is with evenweaves!). The other side of hte bag says Pirate's Purse. I finished the Ship's Log by padding the front cover of a blank, hard-covered notebook, then used book binding glue to affix the linen. To make it look more nautical, I made a cording from some wooly-tweedy yarn (the ivory piece matches the drawstring for the bag). Not perfect, but hopefully it'll come close enough in the eyes of a 7 year old boy.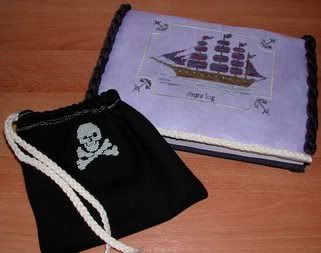 The other reason for my great mood is the beautiful ornament we received from
Jenna
! Jenna, I have to ask how you did your satin stitches so perfectly - no matter how I try, mine don't even come close. We all love it - so much so that I think I will hang it in the nursery after we take the tree down so we can enjoy it all year! This was my favorite of all Jenna's very beautiful ornanments and I am really honored to have it. Thanks, Jenna!!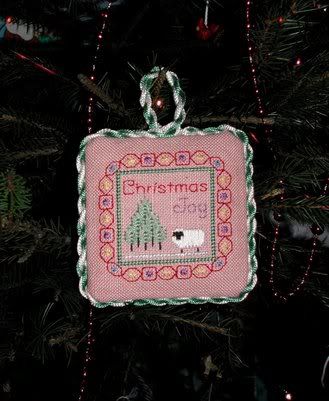 Next year, I really hope I'm proficient enough in ornament-finishing to share with all my wonderful new stitching friends. You guys are the greatest!
This afternoon and evening we have Max's school celebration for Christmas - the kids have a dinner at school, and stories are read and lots of joy is to be found. This is the first year that Niek and I haven't been right in the thick of it, but the younger two have kept us so busy this year that we've not been able to volunteer nearly as much time this year. The school has also become quite rigid with a policy of no younger siblings (who aren't of school age) being allowed in the classrooms. For those of us without built-in-babysitters, it means we can't really do much. Do other schools have this policy?
I hope all your Christmas preparations are going smoothly and that you are all enjoying the spirit of the season.