Yes, folks it is driving me seriously nuts that I can't post pictures here. I tried again, using the scanner, but it still didn't work. Today I'm posting an older picture of a poodle I made for my mom because it totally cracks me up and because my mom called me at 4 am her time to cheer me up. (It worked, Momsie, thanks!)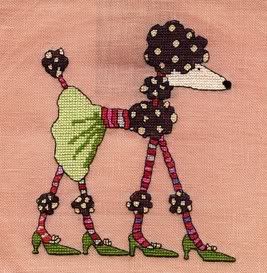 I was a good girl today and got my quilt square off to Linde in Australia and my neighborhood RR off to Rachael in Germany. I felt very worldly at the post office. LOL. Both should arrive by the end of the week or beginning of next week. I took a picture of the quilt square because I'm sure that someday I'll be able to upload all the pictures on my camera.
The sun is shining brightly and some crazy people are talking about housework. Crazies. It's got to be against some law of nature to do housecleaning on a sunny day. It's easy for me to talk, though, because Niek did some serious tidying up here while I was at yoga last night.
Today I really should take advantage of the sun to do some stitching. I could finally get the right color for Max's dragon wings. Time is getting tight on that - only 4 weeks till his birthday, and framing (if I go that route) takes about 10 days. I could also work on one of my over-one projects. I could work on my Quaker sampler, but some little imp has hidden my silk from me. I think I will work on Max's dragon. I would love to have it done in time, especially as he isn't expecting a gift (his bunny is for his birthday).