A couple of weeks ago, we went to the Keukenhof with Nicky and Rowen. It was Niek's first time - a typical Dutchman, he's never been before because it's such a touristy spot. He was amazed at how beautiful it is. Unfortunately, it was really cold the day we went and we were all shivering in our winter coats. Still & all, it was fun. This time, Niek was the family photographer, and I think he did a great job.
That same weekend, Rowen finally got her big-girl's bed. When I took her to Ikea to shop for it, she insisted she was not getting a bed, but when we walked by the showroom model for this one, she climbed right in, pulled the blankets up, and announced to all the shoppers passing by, "This is
my
bed!" Although Nicky was allowed to test it the first night we set it up, now Rowen won't allow anyone to sit on her bed except for her biggest brother, Max. Max can do anything, as far as Rowen's concerned!
During all these goings-on, Max was in England with his biological father and grandparents, where he had a wonderful time searching for fossils, stones, and ancient coins. Here's a great picture of him in a traditional red English phone booth.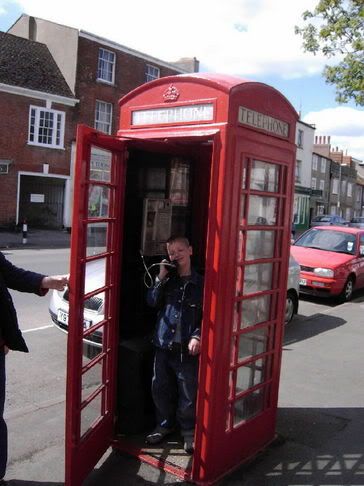 Stitching-wise, I've temporarily set Annemarie's neighborhood block aside to work on a Quilts4Kids square that's coming along nicely. I seem to be stitching in slow motion lately, but I guess that's okay as long as I begin everything far enough in advance.
Wishing you all a happy weekend!