Niek didn't go to chess last night, which meant I had to admit that the cross stitch gift I was making for a gift wasn't getting anywhere because I like the design so much that I wanted to keep it for myself ... I was sabotaging my efforts to have it done on time, so I wouldn't have to give it away. Niek almost wet himself laughing, and teased me mercilessly till bedtime. In my own defense, I did start a new gift - which I really will give away! - and made a decent start on it last night. This is Sweet Child, by Brightneedle, done on 32 count Bo-Peep Pink from Silkweaver using all Vikki Clayton silks.
Here's the floss toss, chart, and the frame I will use when it's finished.
And here is the one I'm keeping. You know I'm pretty crazy about birds, and I've recently become addicted to Danish designers. This is from the 1986 Danish Handwork Calender (designer Edith Hansen), the month of August. The idea is to have one block per season - this is the summer block. I've picked out fall, spring, and winter, too... Since it is now for myself you may have to wait awhile for more progress pics. I'm notoriously slow at finishing my own stuff.
Yesterday was a warm one. The kids and I walked to the kinderboerderij, which I guess is equivalent to a petting zoo (with bunnies, chickens, goats, sheep, etc.), where they got dirty and had fun. After we returned, we went through a whole bag of water balloons. Those were a huge success, as you can see! (Blogger refuses to upload any more pics, so I've switched over to Photobucket.)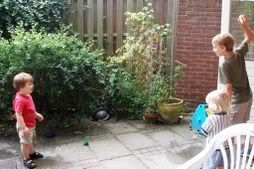 Continuing the summer fun, we are heading over to
Ash's
in just a little while to play with Seb and Joe. I hope I remember to bring my camera....