Lots of pictures to share today. This may be my last regular post in awhile - tomorrow I'll be busy packing, and on Thursday we fly out. Hooray!!
When I came home from a hectic day at work yesterday, I was totally floored to find a birthday package from
AnneS
! She sent me a lovely card, THREE pieces of linen, and a skein of "Olive Branch" from Crescent Colors that I just love. Thanks AnneS!!! And to keep the birthday spirit going, today I received the two new Blackbird Designs from
Su
:
Flea Market Souvenir
and
Secret Garden
! Wow! (Sorry there's no picture of Su's, but you can click on them to see a picture.) Wow, you guys, thanks so much!!!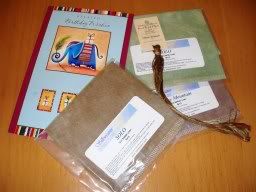 I have been stitching, though today I set it aside to do some serious cleaning. I'm making a little fob for Gaby, my new step-mother. It turns out that her birthday falls just before our visit, so I'm making Dearest Friend, by Brightneedle, for her. I'll fill it with lavender. I'm putting our names and the year on the back. I stitched this on a piece of hand-dyed Queen Anne's Lace Jobelan, 28 ct (though it honestly felt and looked more like 32 ct) using Dried Roses silk from The Thread Gatherer. The colors are not quite this hectic IRL but this picture is all I could come up with.
It's been really hot here, which means - in our household anyway - very dirty children. Baths are pretty much a daily affair, and the kids love to all jump in the tub together, no matter how often we say it's too small for all three of them. I couldn't resist taking a picture of Max hamming it up.
Tonight, Max's bunny heads over to Niek's sister and tomorrow our bird will go to Niek's parents. A kind neighbor is going to look after Spin and our house plants. As I mentioned, I've been cleaning today, scaring the daylights out of the spiders and other creepies who thought they could move in permanently. I cleared off my stash chest and took this quick picture of some of my cherished items. That weird, spiky thing is a hedgehog that Nicky made for us. The picture is of my mom and her sisters as childrenn. The tiny bowls are from Niek's sister. The miniature bunny is from
Ash
, the mailart is from
Annemarie
, and the "be good" ornie is from
KarenV
. The pillow is a gift I made for Niek, and the dolly is Rowen's Itty Bitty Pear Doll. In the back are a few of my special cross stitch books. I wish I had a beautiful spot to display more, but with dirty, little hands all over everything, I'm afraid that will have to wait. (There are also beautiful Christmas ornaments from
Jenna
and
Dianne
, but they're safely packed away; and stunning hardanger gifts from
Von
and
Cathy
, but the kids like those "too much".)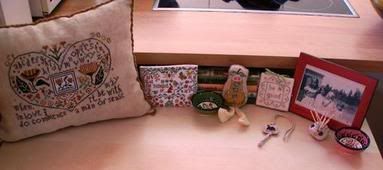 Thank you for your wonderfully kind comments regarding "Sweet Child" - I loved stitching it and am in real Brightneedle mood now! I'm not sure when I'll be able to post, but I'll be thinking of all of you while I'm in Maine. And I'll be meeting some of you -
Carol
and
Patti
! Wish I could meet Dianne, too, but she's just a bit too far off. Take care everyone, and enjoy the upcoming dog days of August!
PS: Blogger refuses to accept even one picture today, so I've had to use my Photobucket account again. For some reason, this makes a mess of the template. Argh!