As the old saying goes: If you have health, you have everything. So my biggest birthday gift came a day early - the doctor said that all my levels (except iron) are back within the normal range and I can try to get on with life. Hip, hip, hooray!! Thank you friends, so much, for your support!
Making
much
prettier pictures, however, are the
BEAUTIFUL
gifts I received in the mail from
Carol
and
Isabelle
. You guys are just too good to me!!!
Carol sent me the complete kit for
Baby Bug Ball
, the truly adorable Shepherd's Bush project, with a sweet card telling me that it reminded her of my three wee beasties. This is already very high on the "must do" list, Carol, and if I weren't starting
A Pennsylvania-German Stocking
next, I would start
Baby Bug Ball
. Thank you so much!!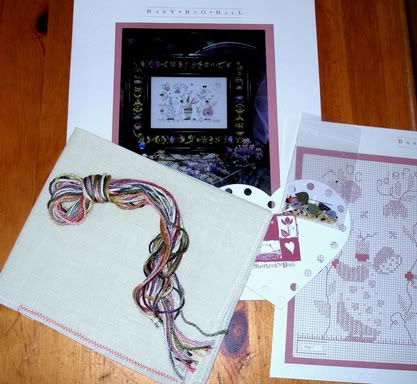 And Isabelle made me one of her lovely bags, which she knows I admire tremendously. Not only do I get to enjoy the bag, I finally get to see how they're made so I can make some of my own. I wanted to make a bag like this for
Mary Kirby - Home
, but I just didn't know how to do it. Inside the bag were two skeins of beautiful overdyed floss from a French supplier. I'm just itching to try this out! Thank you for your lovely card as well, Isabelle. Your kind comments give me a goal to try to live up to!
Tomorrow is the day that my personal calendar actually turns the page. We'll take Max's best friend out to eat at a restaurant that we (as a family) really like. It might not be romantic, but it will be fun - and seeing my kids happy is just the best. I don't know what else Niek has planned. Usually he goes all-out on my birthday, but health uncertainties have made it very hard to plan anything. Just having him and the kids around me will be more than gift enough!
I should have some stash photos to share soon, and I'm also
this
close to having Annemarie's neighborhood done. I figured out how to make French/Colonial knots today! So the lupins that I "planted" in her neighborhood last night really look great now.