Max is away this weekend and I thought I'd give his bunny's cage a thorough cleaning this morning. And learned that I should really follow my own advice! If you have to leave the bunny for even a second, put her in her travel box! I stepped out of the room to get some paper to wipe out her cage, and when I stepped back into the room I startled her - she jumped straight up in the air from Max's bed and went backwards over the built-in bookcase to land in a tiny 1 inch gap between the built-in bookcase and a bookcase that is wedged in in such a way that you can only get it out by standing on Max's bed and lifting it straight to the ceiling. I started clearing off the bookcase to lift it, listening for any bunny sounds. There were none. I feared the worst... Finally, I was able to lift the bookcase out (I guess I'm in better shape than I thought) and there was a tiny dark splotch in the corner ... that moved! Hooray! She got away from me while I was breathing a huge sigh of relief, but I soon had her back in her (clean) cage and set about cleaning up the 2 year accumulation of dust and small objects that had been dropped down the hole. What a chore! But the bunny's cage and Max's room are now clean!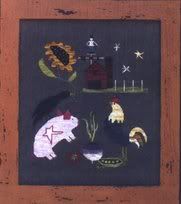 Yesterday was a great day with Annemarie. We checked out the
Naald en Draad
LNS in Roermond. I would've loved to have bought some linen banding that was perfect for The Sampler Girl's charts
Mansfield Park
and
Sense and Sensibility
... but at 20 euro a meter, it was just too rich for my blood! I did splurge on some of the DMC linen floss - after looking at it and feeling of it, I think I will enjoy stitching with it. I've got a little BOAF sampler in mind that would look fantastic using it. For the most, I picked up some odds & ends and simply enjoyed being in a real LNS. After shopping, Annemarie drove us over to her home and I was able to meet Pelle and Jula. Pelle and I took turns cracking each other up, while Jula whipped up a delicious meal apparently out of thin air. I had a great time - thank you Annemarie & Jula! And I'm now in possession of Annemarie's neighborhood RR! I took it out when I got home and started going through my charts - a big pile of "no way" and a small pile of "maybe" charts soon resulted. Finally, I decided on elements from several designers: Prairie Moon, Carriage House Samplings, The Goode Huswife, and Elegant Designs. I've put in a couple of pictures (from the SB&B site) of designs I'll be borrowing from, just to tease a bit. As for my something wacky to go into the neighborhood, in all honestly the whole block will be rather wacky. I'm eager to start it now, but I have this mailart exchange that is due out by the end of the month... To be responsible and meet the earliest deadline first, or to just go for it ...?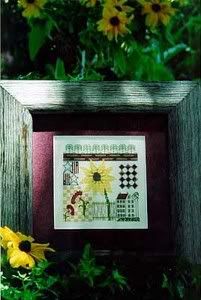 Wishing you all a wonderful weekend!