I had intended to update my blog last night, but Niek was busy with the computer till after midnight (by which time I was snoring in bed) so here I am now - with lots of pictures!
First of all, I'm so glad that
Becky
likes her scissors pocket and fob! As soon as I saw the design on
Meri's site
(pointed out to me by Maria S. - thanks!), I knew I'd found the right gift to remind Becky of how much she's appreciated. This was my first scissors pocket, but not my last! Becky, thanks again for the October JCS magazine and for all the wonderful things you do to make our stitching community an even more special place!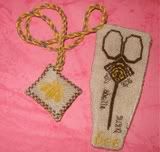 Secondly, although I am on a stash diet, I did have some outstanding orders that I'm waiting for. Here's what I ordered from
Wyndham Needleworks
, all from their sales pages. I've really gotten to like Chessie & Me - another example of how my tastes have changed over the past year or two.
Thirdly, I'm making slow but steady progress on the Harley quilt square for
Quilts4Kids
, but I also started another square for a Dutch-based quilt charity. It's a new quilt request with urgency status, so they need the squares right away. I'm doing the grasshopper from Garden Beasties by Prairie Schooler.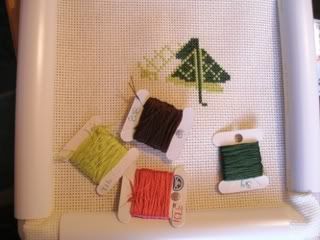 This afternoon I'll be heading toward the Big City (aka Amsterdam) too meet
Rachael
for the first time. I'm going via
Ash's
house so we can go in together. Hopefully some of the chocolate chip cookies I baked yesterday will be left for me to share with her wonderful boys (and Brad, of course, who - like my DH - has kindly taken over tonight's bedtime rituals for the kids). Though Rachael and I have spoken frequently on the phone, we've never met IRL and I'm looking forward to it. I'll also meet her friend Cheryl, who is kind enough to share Rachael with other friends.
On a tiny sour note, I am still awaiting my "last"
SBB
order which includes my JCS ornaments issue. I want to start stitching those Christmas ornies! LOL. Thanks to Becky and Maria S. I have had a preview of the ornaments, but I'm impatient to have the magazine in my hot little hands. Other than eBay purchase that I'll pick up in person from Conny, a wonderful stitcher and seller over near Delft, that's the end of my incoming stash for the foreseeable future. Though I admit to perusing the many ONS sites, it really is something of a relief to be "forbidden" from purchasing anything. The only thing that has seriously tempted me is the Quaker Stamps charts. You can learn more about them at the
Yahoo group
if you're interested.
Though I can no longer claim autumn as my favorite season, I do love the way the change in weather affects our Spin. In the spring & summer we scarecely see him, but as soon as the days begin to shorten, our wild feline turns into a total Love Kitty. Here he is, keeping me company while I stitched last night.