Five years ago ... To everyone who lost someone five years ago today, I wish you peace. I don't know what else to say. Words are too little.
Sorry to have disappeared for a few days - it's just been busy with one thing and the other. I've been trying to keep up with my deadlines (so far, so good!) and we've had Niek's birthday party with his family, and various other this & that things going on.
I think I'm safe in showing you one of my exchanges because the recipient is no one I've ever heard of and I'm pretty sure she doesn't read my blog. Even if she does see this picture, it's okay because the gift isn't finished yet and will look different in its final form. This is Miniature Quaker Sampler from Thistle Threads stitched on 32 ct Princess Pink linen from Silkweaver using a fabulous and unusual cotton floss from France that Isabelle sent me.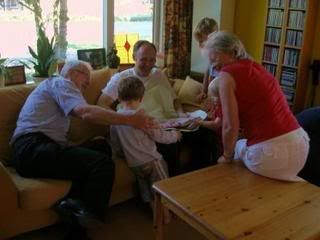 We had a wonderful time with Niek's family yesterday, celebrating Niek's birthday. The kids had such a blast playing with each other!
I did quite a lot of baking, but I think my oatmeal cookies came out the best. First time I've made them this way, and if you're interested,
here's how I did it
:
Preheat oven to 175 degrees Celsius.
Cream 1/2 cup brown sugar, 1/2 cup white sugar, and 1/2 room-temperature butter.
Combine and and beat in till smooth 1 egg, 1 tsp. vanilla, 4 tsp. cold coffee, dash of cinnamon.
Sift together and add to the above ingredients 1 1/4 cup flour, 1/2 tsp. baking powder, 1/2 tsp. salt.
When these have been beaten in smoothly, add 1 cup quick rolled oats, 1/4 cup pine nuts, 1/3 cup raisins. Mix thoroughly.
Roll into balls and bake on baking paper till the edges begin to turn light brown (this took about 12 minutes for a batch of 12 in my oven). Let cool on baking paper on a wire rack.
And for the really big excitement around here, look at the tarantula I found when cleaning before Niek's family arrived! Okay, it wasn't actually a tarantula, but it was some kind of spider as big as my hand. No kidding!! Needless to say, Niek had to come to my rescue.