... I could hardly count the dots on my dominos!
Okay, I can't take credit for that hilariously funny line, it's from Rowan Atkinson in one of the episodes from
The Thin Blue Line
.
Yesterday was Niek's birthday! Happy day to the man who makes my life a happy place!
The day didn't start off that auspiciously, however, when I actually forgot it was his special day. Niek forgave me, pointing out that he's used to my "brain being in the freezer" (his words!) for the first hour or so that I'm awake. I did finally catch on to his many hints just before he left for work. I felt terrible because he's always so wonderful when it's my birthday. I made up for it, a little bit, by having a huge bouquet of flowers delivered to him at work. He liked it, but said it made him feel "weird" to get flowers at work. LOL.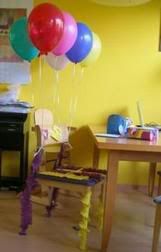 Before he came home, the kids decorated his chair and made him a birthday crown, both of which are Dutch traditions for children's parties. Keeping in the theme, I called his Mom and got the low-down on his favorite bithday foods and how to make them. In all my nine years here, it's the most (traditional Dutch) cooking I've done! I have to admit that I goofed on the dessert, which was something I'd never made or eaten before, but Niek got the hugest laugh at my expression when I tried a bite that it was worth it. (I'm willing to laugh at myself!)
For his gift this year, I splurged on a leather jacket that I think makes him look better than James Dean. (Is that a selfish gift?)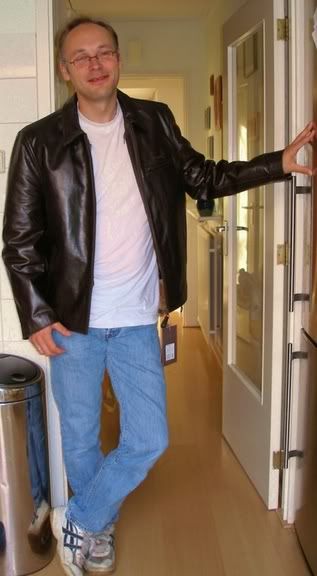 And today, it's back to stitching! I have a couple of projects that are a little different than my usual subjects. Watch this space...